Broccoli Nutrition: What Are The Many And Amazing Nutrition and Healing Powers of Broccoli?
Could Broccoli Nutrition Be Better For You Than Any Drug Which Claims To Have Similar Functions?....And The Answer Is...
Yes!
You May Never Have Thought About Food As Medicine, But It Is...Here's Why.
Broccoli Nutrition: Traditional Chinese Medicine Healing Properties:
Broccoli Nutrition. In Traditional Chinese Medicine Broccoli is a food with marvelous healing powers.
Thermically (meaning it has a heating or cooling or neutral effect on the body's temperature): It is cooling. It will help cool your body down.
Taste: Slightly bitter tasting.
Healing Properties:
1. Brightens the eyes, meaning it improves vision and eye health. Used to treat eye inflammation and nearsightedness.
2. Treats Summer heat in which a person feels hot all the time.
Modern Scientific Broccoli Nutrition Information:
Broccoli is packed with powerful and unique disease fighters.
Broccoli provides a variety of very strong anti-oxidants such as quercetin, glutathione, beta carotene, indoles, vitamin C, lutein, glucarate and sulphoraphane.
This synergy of anti-oxidants make broccoli very good food for cancer prevention, particularly against cancers of the breast, cervix, prostate, colon and lung.
Broccoli is low in calories, but is especially rich in vitamins A, C, K, B6 and E, folic acid, and rich in minerals such as calcium, phosphorus, potassium, magnesium.
Broccoli Nutrition - Modern Scientific Known Healing Properties:
Bone-building: A cup of broccoli juice provides calcium, phosphorus, potassium, and magnesium needed to build and maintain strong bones.
Breast cancer: Broccoli has an anti-estrogenic compound known as glucosinolates that are especially helpful in reducing excess estrogen compounds that are linked to breast cancer.
Digestive system: Like all cruciferous vegetables, broccoli promotes good colon health, preventing constipation and colon cancer.
Eye disorders: The high anti-oxidant level in broccoli promotes overall good health and provides great protection from serious eye diseases. Lutein in broccoli is especially effective in preventing age-related macular degeneration.
Immune system: Just half a cup of broccoli juice a day will provide more than your daily required vitamin C to help boost the immune system and fight many diseases.
Prostate cancer: Indole-3-carbinol in broccoli is a remarkable cancer-fighting compound which not only fights breast cancer, it has also been shown to be helpful in fighting prostate cancer.
Skin: The high concentration of sulforaphane in broccoli helps boost the liver and skin's detoxification abilities. It also helps the skin to repair damages from over-exposure to the sun's harmful UV rays.
Stomach disorders: The high content of sulforaphane in broccoli helps to rid the body of the Helicobacter pylori which is responsible for some peptic ulcers. It also helps other stomach disorders like gastritis, esophagitis and acid indigestion.
Tumors: Sulforaphane is found in extremely high concentration in broccoli sprouts, which helps stimulate the bodys production of specific enzymes which help reduce the size of tumors.


Broccoli Juicing Tips!:
A centrifugal juicer is not capable of extracting any juice out of broccoli but a gear or "masticating" juicer does the job perfectly.
You can mix broccoli juice with carrot and green apple juice to make it more drinkable. Drinking broccoli juice raw is the best way to obtain the most nutrition out of it.
Selection, Consumption and Storage Tips!: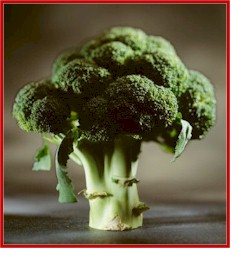 Choose broccolli with deep green color, and stalks and stems that are firm.
You can keep and store it in an open plastic bag in the refrigerator for up to about four days.
It is best to lightly steam or quick stir-fry broccoli in order to preserve as much of its nutritional value as possible.




Please click here to leave Broccoli Nutrition and return to the Healthy Foods Page

Please click here to return to the Holistic Nutrition Page.