This Is Why You Should Get Treatment From Me At My Acupuncture Pain Clinic
My Commitment To You Is This! I Will Eliminate Your Pain and Restore Your Functional Ability!
At My Acupuncture Pain Clinic You Get My Personal, Expert, Pain Free, Acupuncture And...Permanent Pain Relief!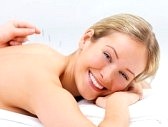 Did I Mention That My Acupuncture Technique
Is Pain-Free!
If you are reading this page about my Acupuncture Pain Clinic it is likely that you or someone you care about is in pain.
If you are in pain, I don't have to tell you that pain is debilitating. Others often don't realize the price you pay for your pain, but you know what you have had to give up.
Imagine how you will feel when you get treatment from my acupuncture pain clinic, when:
You can do all the things you used to do without the pain;

You can play again with your friends, children and grand children without pain.

You can take better care of yourself, your spouse or family.

You can participate in sports again without pain.

Or, work again without pain.

Sleep without pain.

Even get in and out of bed without pain.
Here Is What You Will Get From My Treatments at my Acupuncture Pain Clinic:
Affordable Pain Relief, Even If You Don't Have Insurance And Aren't Rich.

Effective Pain Relief Without Drugs or Surgery. You know drugs only mask the pain, they don't make it go away. And you may know from your own experience that surgery often doesn't solve the problem. It often makes the problem worse.

Restoration of Functional Ability That Only Comes With Healing The Root Cause of Your Pain.




How is this possible? I have acquired specific knowledge and expertise over my many years of study and practice using acupuncture and energy medicine in a way that few others can to mobilize and direct your body's innate healing energy and healing ability to heal the root cause of the pain, which ends your pain...and improves the function of the affected area and...
I can do the same for almost any other kind of disease condition or physical problem you are dealing with.
I know how to direct your body's own incredible healing energy to improve the condition of whatever problem you are dealing with. A secret...that's part of why you have the problem you do...that healing energy got somehow diminished or misdirected.
Another great reason to come to my Acupuncture Pain Clinic is because healing is my passion, because I have experienced incredible pain in my life and over come it all with what I have learned how to do and will do for you.
What Kinds of Pain Do I Treat With My Acupuncture and Oriental Medicine Treatments?
At my acupuncture pain clinic, I effectively treat pain of the following kinds and locations:
headaches including Migraines, and all other types and causes of headache,
neck,
back (upper, middle or lower back problems including Sciatic pain, spinal stenosis, herniated discs, degenerative disc disease, Spondylosis), arthritis of the spine,
shoulders,
arms,
elbows,
wrists,
hands,
fingers,
hips,
knees,
ankles,
feet (tops, bottoms or sides), plantar fascitis, and bone spurs

toes
tailbone area or Perineum (the area between your genital region and your anus)
Auto accident injuries
Fibromyalgia
Sports Injuries
I provide pain-free, professional acupuncture and Oriental Medicine services to the Sarasota County Communities of Bradenton, Sarasota, Osprey, Nokomis, Venice and North Port, FL.
And Yes I Also Treat
Many Other Conditions Such As:

At My Acupuncture Pain Clinic I treat Both Men and Women's Health issues such as:
Women's Gynecological and Reproductive Health issues including Menstrual Pain, PMS, Peri-menopause, Menopause, Post Menopause issues, Urinary Bladder infections,




Men's Reproductive Health issues including, Benign Prostatic Hypertrophy, erectile dysfunction.




Cardiovascular issues such as chest pain, high blood pressure, peripheral vascular disease.



Lung or breathing issues including Chronic Obstructive Pulmonary Disease or COPD, Emphysema, Bronchitis, Coughing, feeling of tightness in the chest, chest pain.


Spleen and Pancreas issues such as over-weight, fatigue, weakness, brain-fog, feelings of heaviness, frontal headache, blood sugar problems including diabetes, and low blood sugar.



Digestive issues including indigestion, bloating after eating, acid reflux, constipation, diarrhea, abdominal pain, Crohn's.

Liver problems: including hepatitis,

cirrhosis




Gallbladder health issues including Cholecystitis or sick Gallbladder, Gall stones,




Mental and Emotional Health issues like: anxiety, depression, stress, PTSD,



Here Are The Top 7 Reasons
My Patients Tell Me They Chose Me
To Treat Them At My Acupuncture Pain Clinic:
"...I tried many other things for pain relief that did not work before coming to you. People told me you really care about your patients. Your treatments and your caring for me made all the difference! I left your office on the first visit pain free for the first time in 6 years."

"I wanted to be off pain medication with all its bad effects. I had heard that acupuncture might work...Dr. Eichenauer's acupuncture worked. It worked the first office visit and after a few treatments, I was able to stop taking all of my pain medication."

Another, "I didn't want to have risky and potentially dangerous back surgery or the long recovery time that comes after it. Dr. Eichenauer's acupuncture eliminated all of the pain I had from an MRI documented herniated disc, got me off of the pain medication I was addicted to, and subsequent MRI showed that my herniated disc was back in place."

Another, "Even though I was hurting, I wanted to avoid potentially dangerous surgery to remove my Gallbladder. I also figured God put it there for a reason even though my Doctor told me I didn't need it. Because of Dr. Eichenauer's treatment I didn't have surgery and I kept my now healthy Gallbladder. I learned from Dr. Eichenauer that my Gallbladder helps me digest fat and helps balance my blood sugar. Who says you don't need it."

"Before coming to Dr. Eichenauer for treatment no Dr. had ever spent even 10 minutes with me...then these "Doctors" would give me an expensive prescription that didn't work or made things worse", and around and around it went."

"I was tired of taking a newly prescribed pharmaceutical drug and having weird symptoms.... side effects.... happen to me...and even telling my MD about these new symptoms that began within days of taking the prescribed medication...only to have that MD tell me it couldn't possibly be the drug. Yet, when I stopped taking the medication those same symptoms would go away. I wanted treatment that works!"

"In Arizona I had been using Acupuncture when I needed it and strongly believe in Holistic Medicine and Natural healing methods...it has always worked for me. I was happy to find an excellent, caring, qualified practitioner when I relocated to Sarasota County, Florida."
If Those Reasons Were Not Enough To Convince You To Come To My Acupuncture Pain Clinic For Treatment, Perhaps Some of The Next Ones Will Be:
"His Treatments Work. No Dr. or Acupuncture Physician has ever stopped my pain in one treatment, almost immediately, without drugs."

"He is a good communicator.... he explains, in plain language, everything he proposes doing and why he proposes doing it."

"Thorough...he spent enough time with me, one and a half hours on the first visit, and he got it right when all others didn't. The difference...he cares."

"I'm receiving conventional medical care. Dr. Eichenauer's Acupuncture and Holistic Medicine treatments made my conventional medical treatments work better than they ever have."

"I always get treated by Dr. Eichenauer, personally, not an assistant or surrogate."

"Gets me in for treatment quickly."

"Empowered me with self-help information and encouraged me to participate in my healing process. I am better now and I believe this is why."

"...Offers extensive health improvement information on his website and adds more and more every week.

"He gives me a Discount because I'm on Medicare which doesn't cover acupuncture at this time."

"He accepted my Auto Accident Insurance when I was in my car accident and billed them directly. I paid nothing but my co-pay."
My Mission:
My Mission at my acupuncture pain clinic is to help heal as many people who are suffering as I can!
You Need To Know!
Not All Who Perform Acupuncture
Are Qualified To Do So!
Don't learn the hard way that not all who perform Acupuncture are good at what they do.
MDs, Chiropractors, Physical Therapists, Osteopaths are "allowed" to practice "acupuncture" after taking a 100 to 200 hour seminar...as if "acupuncture" was only a technique that is just about sticking needles in people...and in-spite of the fact that they aren't qualified to perform it.
Actually, Acupuncture Physicians or Oriental Medicine Doctors (OMD) have a minimum of 2700 hours (four years of study and training (not counting 4 years of clinical training and practice prior to becoming licensed.
Would you have surgery performed by someone who took a seminar? I don't think so.
Get the most professional, effective, safe pain relief at my Acupuncture Pain Clinic.
Trust me on this, you do not want acupuncture from one who is not qualified to perform it.It will be a waste of both your time and money. Not to mention that you will wrongly lose hope of getting better.

Please click here to find out more about acupuncture and how and why it works and to find answers to your questions.
Call 941-926-4711 for your free consultation or to schedule your first appointment.
At My Acupuncture Pain Clinic
I Provide Acupuncture And Oriental Medicine Services For Residents of
Bradenton, Sarasota, Osprey, Nokomis, Venice, And North Port, Florida
If you live in Bradenton,or Sarasota, or Osprey or Nokomis or North Port or Venice, FL come to me at my Acupuncture Pain Clinic for you acupuncture pain relief.
It's true...the best, safest and most effective acupuncture treatment is closer than you think!
My Clinic is located in Osprey, FL South of the Walmart Super Center and South of Oscar Scherer State Park. It is easily accessed from US41 (Tamiami Trail) or I-75.
Please click here for detailed directions and a Google Map of the location.

Why Should You Drive A Little Bit Further And By-Pass Those Other Closer To You Acupuncture Clinics?
To Get The Best Treatment!
Sarasota County is not that big...so you can get to my Acupuncture Pain Clinic in no more than thirty minutes from almost anywhere in the county.
Click here to read more testimonials about the quality and effectiveness of my care!

Click here for Acupuncture FAQ, what Acupuncture is, does and how it works.


Call Now For Your Free Up To 20 Minute Consultation 941-926-4711!
Click here to go to sign up for my informative FREE monthly newsletter.

Please click here to return to the top of my Acupuncture Pain Clinic

Click to visit my Home Page, Holistic Medicine Works!
You Can Search For Any Topic
You Are Interested In On My Website
By Entering Your Search Term in the Google Search Box Below.
Be Sure To Scroll Down To See Your
Search Results!